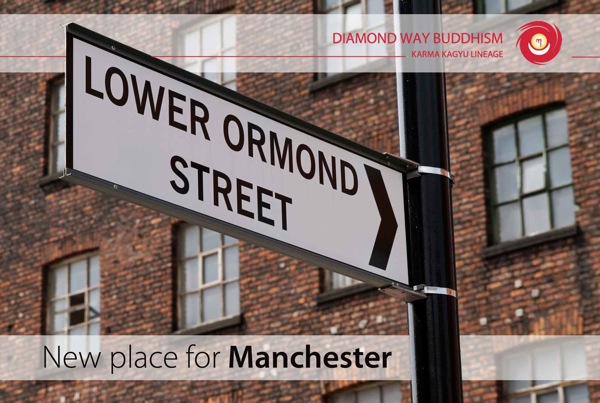 On 5 June 2010 the new premises for our Manchester Buddhist meditation group was inaugurated with a lecture by Wojtek Tracewski on Buddhism in the West. An office on the third floor of an old warehouse became our new home.
For a long time the idea of a Manchester Buddhist centre in the middle of town had been on our minds. We had meet regularly but just rented a room for a few hours. After the wonderful Easter Retreat close to Manchester, all of us had the feeling "now is the time" and on April 15 we started an organised search for a new place. We set up weekly meetings and split up the areas of Manchester to be searched. Three days later one of us walked into the perfect place by accident: a nice office space right in the centre of Manchester. Thus ended what what was probably the shortest property search in history.
After brief negotiations we moved in on May 1 and started to decorate the new space. After some days with paint brushes and discussions about the merits of table or sofa we finished a basic refurbishment. On June 5 when Wojtek Tracewski arrived, we inaugurated the centre with a lecture and a bottle of Champagne. Many friends from Liverpool and elsewhere in the UK came for the occasion making the new place appear too small already.
The new premises is located opposite the BBC building in the heart of Manchester. The full address is: Unit 8, 3rd Floor, 8 Lower Ormond Street, Manchester M1 5QF (see map below).
Our Manchester Buddhist Group will hold regular introductions to Buddhism followed by a guided meditation on the 16th Karmapa on every Wednesday (7.30pm), Friday (9pm) and Sunday (6.30pm). All days are suitable for newcomers. Our Manchester Buddhist Group will also offer monthly Buddhist courses by travelling teachers as well as the regular meditation classes.

View Manchester Diamond Way Buddhist Group in a larger map
Other posts which may be of interest :
Tags: Manchester